It was 29th April 2020, I woke up late in the morning and immediately concentrated on my shipping news-editorial work. Work continued till mid-afternoon and it was not until I opened the internet on my mobile phone  at around 2 pm that I got the message of Irrfan Khan's death
A breaking news notification from the browser announcing his death.
My immediate reaction was 'Jah Sala – Irrfan Khan Mara Geche' in bengali which roughly translates to Shut up! Irrfan Khan is dead!
That's how personal Irrfan was – not only to me but a whole bunch of generations – from 60 to 16-year-olds.
My mother immediately reacted saying didn't you hear? It is in news since the morning. She out of all persons – remembered him. At 68, I didn't expect her to remember him – much more because he only got a fleeting glimpse of him in Life of Pi. But she remembered. Not just remembered but reminiscence the movie she watched with me almost 3 years back.
Such was Irrfan. The man who never needed a fan club. Today, you will hardly find people saying I am a fan of Irrfan Khan or he is my icon and those kinds of fancies. He was more personal and visceral than any actor in the country.
Yesterday when the whole country and the world mourned him, it wasn't because he was a celebrity or he is a fine actor. To most, he was an irreplaceable part of life. Someone who was part of their life. A common man in whose language and imagination they thought. It's a personal loss for everyone.
A few minutes after my mother's exclamation I opened Instagram only to find a message from my friend Arifa.
It read, Irrfan Khan is gone.
That was the trigger effect. It was just a night ago when I had told my friend about Irrfan being in the ICU and it is in the news. That night it didn't seem it would be his last.
Neither did it seem when I walked into the theatre on 13th March to see his last film the Angrezi Medium.
Hearing it from Arifa, made it more personal. In the course of the next few minutes, we continued to discuss his memories in our life. In 5 years, we had survived on his films. In years of depression, his work always meant a pleasant day – as it brought hope and reality into life. As Irrfan said in his last recorded message "Positive rehne ke sivaye aap kar bhi kya sakte hain" which roughly translates to there's nothing you can do except being positive. [Hear his last message here https://youtu.be/NPXZVo-_qpM ]
You see Irrfan wasn't an unrealistic optimist. He was a real man who understood reality – unlike other actors.
He wasn't the person who would say When Life gives you some lemons, you should make a lemonade. Rather he would stress that some times you neither have the will nor the capacity to make lemonade. You just accept and work towards it. You stay realistic and positive
That's why he was present in everyone's life. He was in the market. He was on the beach. He was in the quarreling. And this is what I witnessed yesterday as scores of messages, posts and tributes pour in. To everyone and everything, it seemed like a personal loss. Like one of your friends has died.
Some quoted the Life of Pi dialogue regarding goodbyes while others made portraits and artistic impressions of him.
It was then his wife's personal pictures of Irrfan struck me. They were as simple and as personal as the posts that came from millions of people around the world were, which made me wonder about the universatality of his life.
The message in his living. 
I never proclaimed my fondness for his art nor did many other people. It was as simple and as present in the time, that rarely it needed praises. They survived on their own.
From chndrakanta to salaam bombay to namesake to lunch box to life of Pi to Piku – the characters need not be remembered. They were already living in the society. Irrfan's craft and life were like that.
It didn't need an explanation. It didn't need to be recognized.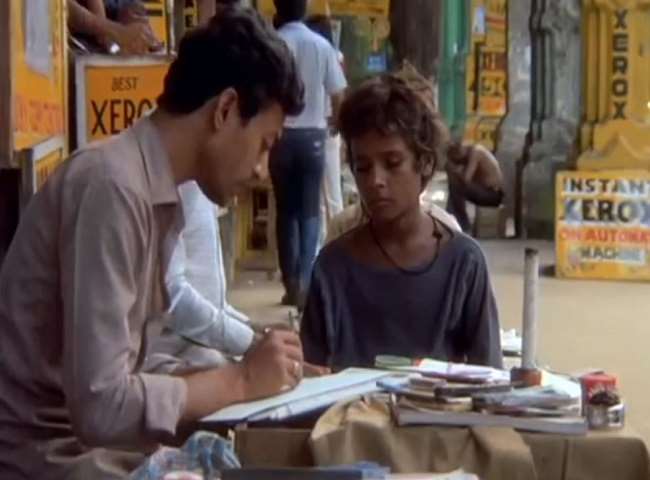 I remembered watching this man for the first time in Salaam Bombay. A 5-year-old me had seen him Chandrakanta as well but didn't remember. From Salaam Bombay onwards it was a subconscious interplay that drew me to his portrayal. This is visible in the truest sense in one of his best and critically acclaimed films, The Warrior, a British film about feudal India.
Pictures of Irrfan Khan in The Warrior
Irrfan , a self-proclaimed shy man – was a man of silence. He lived silently and he went silently. Watching his funeral proceedings on youtube made me realize what gently living is all about. Irrfan left us on a quiet morning when the country and is reeling under a COVID19 lockdown. There was no celebrity crowd around him as a lockdown is going on Bombay. Irrfan, didn't need one. He would have loved this quiet solemn departure when the world and nature are coming back to her senses.
In the truest sense, his life and death symbolizes these lines of the Jagjit Singh's ghazal Ek Purana Mausam Lauta,

"Khamoshi Ka Haasil Bhi 

Ek Lambi Si Khamoshi Hain"
Irrfan was that silence that will always return when the seasons change. It is a simple story, a simple living.  And that's what people are remembering.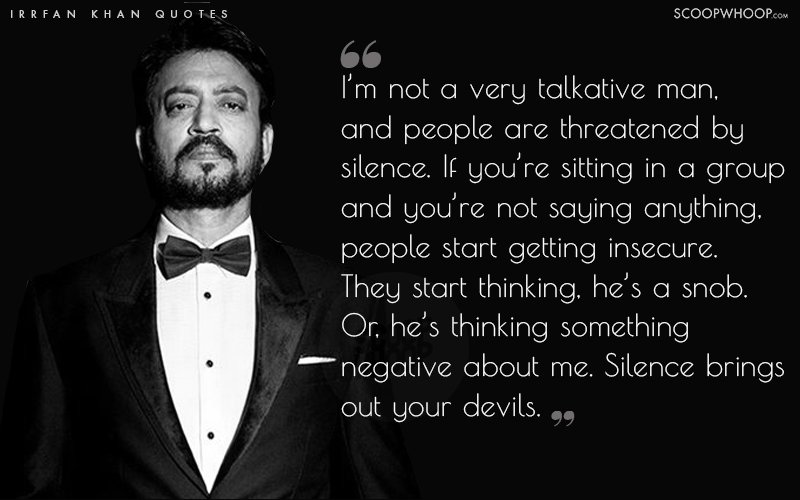 Today, we might not realize but Irrfan transcended the world of cinema, his craft.
He isn't merely just cinema. He is beckoning.
As Aisi Taisi Democracy fame, Sanjay Rajoura  said
What Mohammad Rafi was to singing Irrfan Khan was to acting. We were extremely lucky to live in his time. 
At one point in life, I heard Pandit Shivkumar Sharma say "A musician work is complete when people forget to applaud after hearing his music". That was Irrfan for you. he himself proclaimed a similar thought in an interview with Anupama Chopra while talking on his film Inferno along with Tom Hanks.
He was the enigma Indians needed. Just like Satyajit Ray was the enigma the Bengalis needed to survive in this world.
In a world stricken of disease and death, perhaps Irrfan's life story can see us through. Sadly, he never wrote an autobiography but his life is enough to pull a biopic.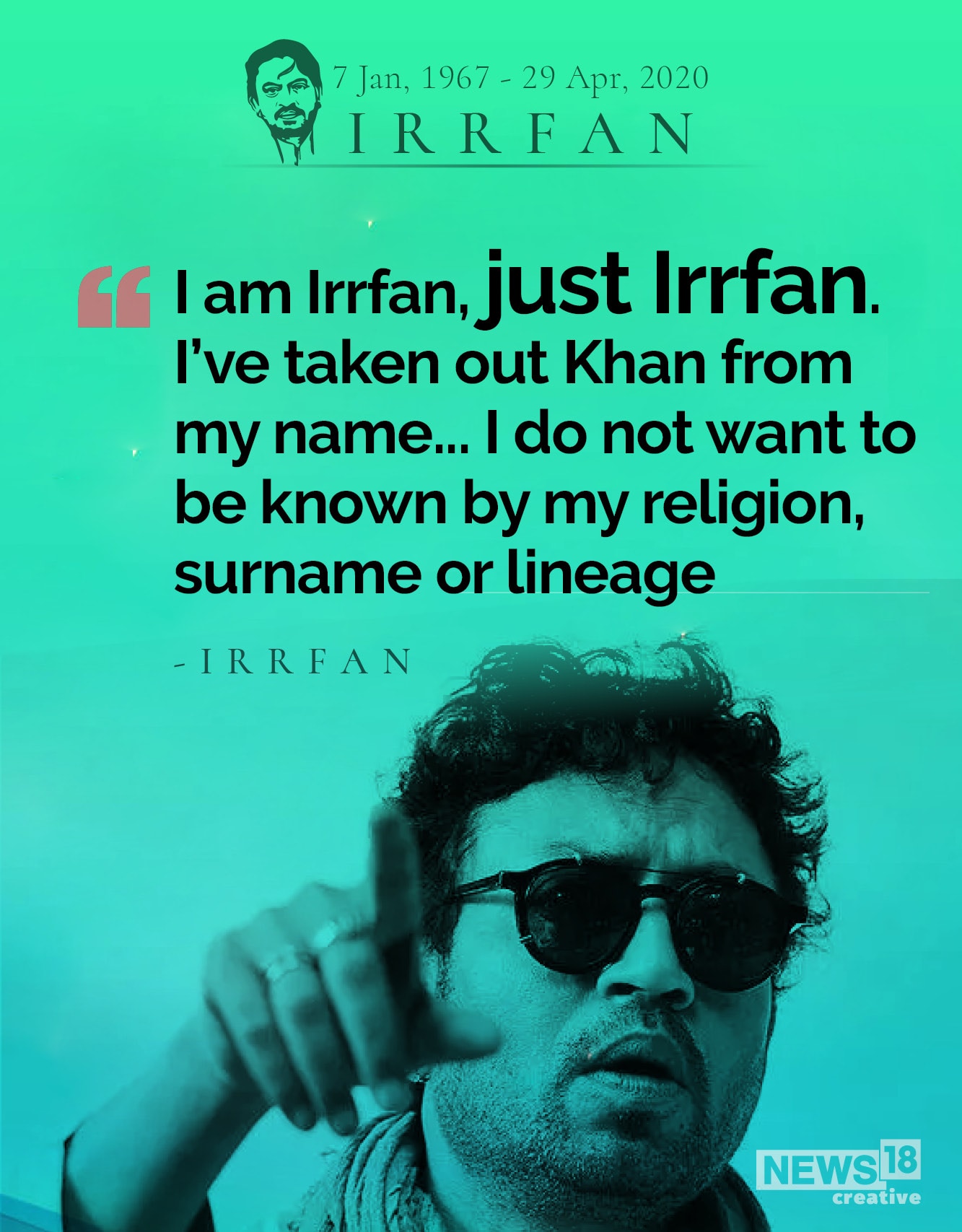 A Biopic that might reunite the divided industry he dwelled in.
As for the likes of me, a man named Irrfan lived in our midst is enough for us.
And he was true to his name as Writer and Historian Rana Safvi explained,
'Irrfan' means Knowledge.
but it's technical meaning is knowledge of a certain kind which can be achieved neither through senses nor through experience, narration reason.
It's acquired by inner witnessings and interior unveilings
Irrfan was true to that. A personal story witnessed and unveiled in the many he touched.
Indeed, he truly was playing a character all this while.
A man named Irrfan who was a friend to many, and a family to others.